I gave this to my niece at her birthday party, and her friends were envious of it!!!!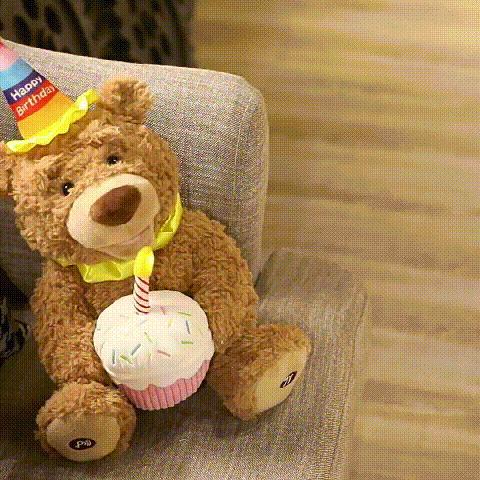 Birthday song how to sing to be more meaningful? What toys can children also receive happily, but also entertain adults? This

Vocal Happy Birthday Teddy Bear

meets your needs, whether as a birthday gift or a newborn's first gift! It is very suitable!
Embrace it! Sway along with the song! Blow out the candles!
[Detail Show]
[Instructions]
Please do not start the toy while it is charging
[Specification]
Material: Cotton+Long plush
Size:14.5 inch
Charging Model: Type-C
Weight: 480g
Package Include: 1 * Vocal Happy Birthday Teddy Bear
Get it now!!!
💦Notes to buyers
★About hair removal
Dear, after you received the goods, you found that the hair was shedding? Please don't worry, the plush toy itself does not shed hair, Because it is a new product, there will be some floating hair and filling fibers, After you get it, pat it a few times, shake it a few times, and the floating hair will be removed.
★About size
All are measured in kind, the plush toy itself is soft and there will be a certain error (about 3 cm)
★About packaging
We use plush vacuuming equipment to vacuum pack, because plush toys are relatively large in size. The product can be better protected only after being evacuated and transported, so when you receive the product, it is slightly different than the description Small or a little wrinkled, please don't be surprised, because this is a normal phenomenon, shake it a few times after opening, expose it to the sun for half an hour, and it will recover immediately!